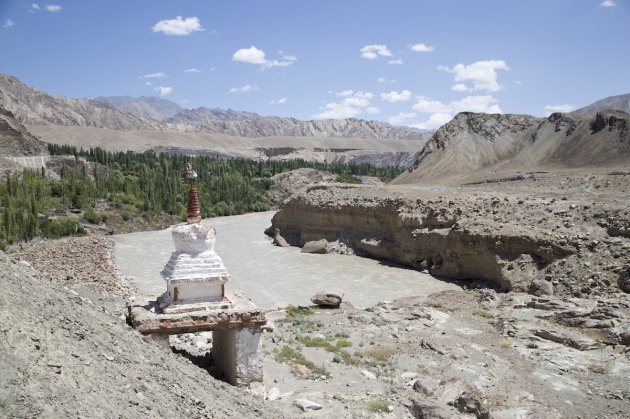 In an India of passionate smokers – tobacco, marijuana and mango cigarettes – there are also countries where smoking is banned . For example, Khalsi, a remote village in the Himalayan region of Ladakh, at 2.987 meters above sea level.
MASSIMILIANO SALVO
A transit country along the road connecting Leh to Srinagar, the capital of Kashmir, Khalsi is one of those many places in the world that share a noble characteristic: there is nothing.
Khalsi exists only as a stop for truckers and travelers who need to drink tea, pee and eat a plate of rice with vegetables. A street, some shops, a bus station with a nice unpaved square are available to the patrons. So much dust. And the noise of the Indus River that runs through the valley (Khalsi would love to see it, but the splendid view of the river disappears just before the village and reappears soon after).
But beyond the cosmic nothingness that distinguishes Khalsi, here is something that can give you a little 'well-deserved notoriety: the 300 meters of the main street of the country, among other things the only one, are in fact littered with signs with the inscription " No smoking, tobacco free town ". A choice in terms of health, very appreciable above all because in contrast in a country like India.
However, considering that the city closest to Khalsi, Srinagar, is ten hours along one of the most dangerous roadsof the planet (and in any case the city is famous for Islamist extremism and attacks); considering that the second nearest city, Leh, just two hours by bus, has 27 thousand inhabitants and you remember it more for the hundreds of stray dogs than for the nightlife; considering that in a country like Khalsi it is impossible to find alcohol, there are no sports fields, there are no cinemas, theaters, bars, bowling clubs; considering that the internet works badly, there is no field for most mobile phones and the temperatures in winter are around thirty below zero – and reiterated that in the poor dusty road in the middle of nowhere you can not even smoke – Khalsi is probably one of the most boring countries in the world.